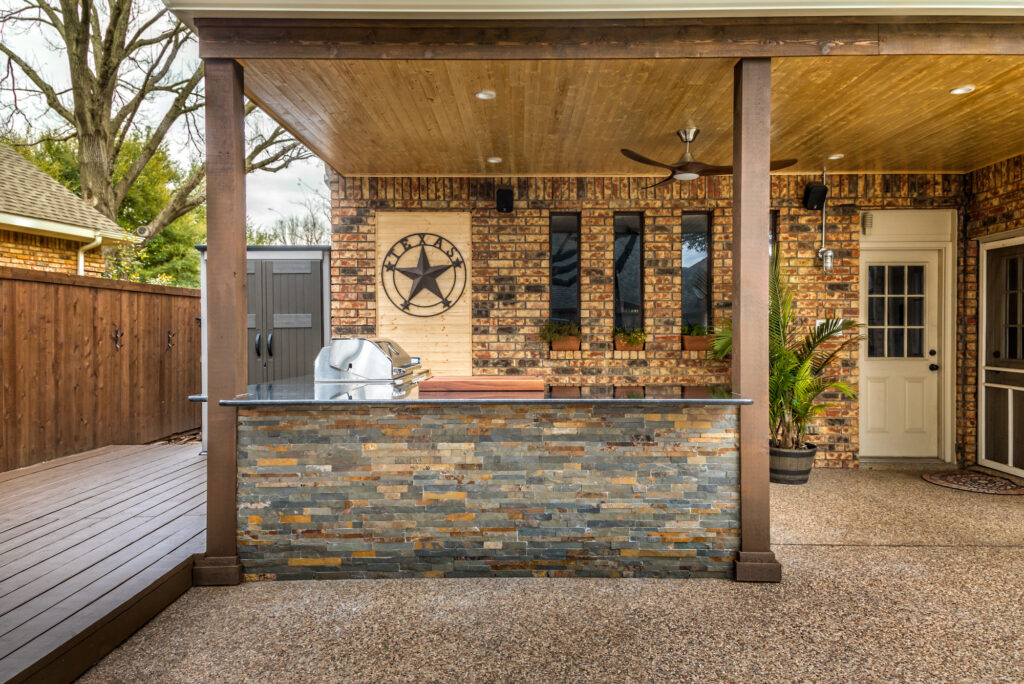 Outdoors living spaces make life at home better. During hot weather, your backyard setup can become a welcome oasis. Modern outdoor living spaces usually incorporate landscaping, outdoor structures, furniture, and even household appliances. Backyard features and structures are not only useful but also cost a significant amount of money.
While homeowners insurance generally covers most structures on your property, you should work with your insurance agent to ensure that all of your backyard features are fully covered by your policy. Your homeowners' insurance policy doesn't automatically cover all your outdoor structures and features. You should be aware of the level of coverage that your policy provides so that you can figure out whether you need additional coverage.
This article covers various backyard features and how they fit under the standard homeowners' insurance policy.
Landscaping
Homeowners' insurance policies typically cover landscaping and gardens if they are damaged by a covered peril such as an explosion or fire. Gardens and landscaping are usually covered by Coverage A (5% of dwelling coverage). To understand the level of coverage you have, consider your dwelling coverage limits as well as your insurance company's coverage limit for landscaping. You should also consider if your insurance policy will compensate you fully in case of total loss.
If the dwelling coverage limits can't cover the cost of expensive landscaping or extensive repair, you should have a conversation with your insurance agent on the possibility of buying an endorsement on your current coverage or getting extra coverage specifically for the landscaping. Take note that some policies come with specific landscaping exclusions such as ice, snow, wind, and hail, which are more likely to cause damage. You should talk to your insurance agent or insurer to find out if your policy has certain exclusions and then figure out how to protect against all the risks you might face.
Your policy may only cover included perils and thus may not protect your landscaping and garden against diseases, pests, earthquakes, and floods. Note that if, say, a dead tree crashes into your house because of neglect, your insurer won't cover the damage. Ensure your landscaping is always well maintained.
Patio or Deck
If your patio or deck is attached to the house, it may be covered by Coverage A (dwelling coverage). However, even if it's attached to the house, you should find out from your insurer whether your deck is protected under your policy's dwelling coverage. If it's included in your dwelling coverage, it will be protected against all the covered perils in your homeowners' insurance policy, which can include storms, hail, fire, vandalism, and falling objects.
Typically, homeowners' policies exclude earthquake and flood damage. To safeguard against these perils, you need to purchase a separate flood or earthquake insurance policy. If your deck isn't covered under dwelling coverage, you should ensure it is protected under "other structures" coverage. You should also note that homeowners insurance policies usually don't cover losses resulting from maintenance issues, sewage or water backup, and infestations. So ensure your deck is well maintained.
Fence
Fences are typically covered under Coverage B ("other structures") part of your homeowners' insurance policy. "Other" or additional structures can provide coverage for the large standing structures that are in your property but detached from your primary residence. Because "other structures" is a component of your homeowners' policy, it usually protects against the same risks as your dwelling coverage, meaning earthquakes and flood losses are typically not covered.
Firepits
If your custom-built firepit is unfortunately damaged by a covered peril, it will be covered by your Coverage B ("other structures" coverage"). However, before you add a firepit to your house, you should ensure that your insurer is willing to cover the risk. You should also adhere to the local guidelines on the use of firepits.
Outdoor Furniture and Belongings
Any personal items, even those that are in your backyard, can be covered under your policy's contents coverage. This includes lawn decorations, accessories, garden tools, pool equipment, patio furniture, safety gear, and more. Your insurer will cover any damage to your belonging as long as it results from a covered peril. Outdoor living spaces generally face certain inherent risks, including vandalism, theft, and exposure to the elements. By ensuring your home insurance policy fully covers your outdoor living spaces and structures, you will be able to unwind in your backyard setup and enjoy the beauty of your landscaping, knowing that they are well-protected.
Other Structures
Freestanding structures that are in your property are typically covered under Coverage B, the "other structures" part of your policy. This usually includes gazebos, sheds, greenhouses, fountains, and more. Review your policy's coverage B limits. If the limits aren't adequate to replace or repair the structures in your property, you should consider increasing the limits. You should also ensure your insurer includes each structure that's on your property.
Structures Used for Business
If you're using any of the external structures on your property for commercial purposes, such as storing your home-based business's inventory in your shed or growing and selling vegetables in your greenhouse, your homeowners' insurance may not cover these structures. To protect structures used for business purposes, you should work with your insurance agent to get suitable business insurance.
How to Get the Right Insurance Coverage
If you need a homeowners insurance policy that adequately protects your property, whether it's your primary residence or a rental property, contact us at Schwab Agency. Our experts will assess all the features and structures in your property and ensure that they are adequately covered. Besides, as an independent insurance agency, we will get you the best possible deal on home insurance premiums. Contact us today to learn more!